what is EOL ?
about eol in general
past project
current projects
life projekt
eco fair
mill on mura
resources
usefoul links
building of mill gallery
opening of mill gallery
legend of Eol
local agenda 21

Ecological Organization EOL
Ivana Mažuranića 2/3
40000 Čakovec
Croatia
Tel/fax: ++385 40 313 090

Mill on Mura
Other then her beauty and cultural and natural diversity, Mura has been specific for her mills and milling. In former centuries, there have been many mills working on the river Mura. Antique sources from 4th century B.C. have already had writings about mills on Mura. Expressions about milling in Hungarian language prove that Hungarian tribes have during inhabiting of these areas in 9th century interwoven use of mills on water drive in their culture, and with that, the expressions of milling technology from already settled Slavs.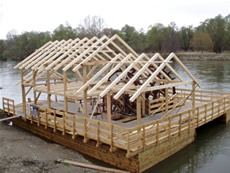 Mills on Mura have been set in old times on trunks called , which have binded the two rafters. was a processed oak tree trunk, long over twelve meters and wide about two meters. Upper side of the trunk was softened with fire, so that the trough could be cut in for the placement of the shaft - wide circle made of four parts, on which small blades were fastened.

At the end of 19th century, pictures show improvement of medieval carpenter technique considering trimmed boards that have formed boats, which have carried driving devices on the river. Milling was especially developed in the first half of the 20th century. It has been recorded that on the river Mura from Lapšina to Podturen in the twenties of the 20th century about 90 mills have been active, in the sixties about 11 mills, and in the eighties destiny of the last mill which was situated near Žabnik in Municipality Sveti Martin na Muri, has been sealed.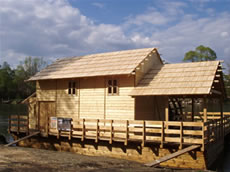 With disappearance of mills, traditional trades connected to building and maintenance of above mentioned objects, manufacturing wooden driving and transit mill mechanism elements, manufacturing roofs made of wooden shingles, carving ornaments on gables, manufacturing wooden milling tools, have vanquished.

Naturally, interest in trade of millers on floating mills has died away. In Croatia, not even one mill has been preserved, and in entire Panon valley, there are only two complete reconstructions, in Slovenia and Austria.