what is EOL ?
about eol in general
past project
current projects
life projekt
eco fair
mill on mura
resources
usefoul links
building of mill gallery
opening of mill gallery
legend of Eol
local agenda 21

Ecological Organization EOL
Ivana Mažuranića 2/3
40000 Čakovec
Croatia
Tel/fax: ++385 40 313 090
17.10.2006
Excursion in Slovenia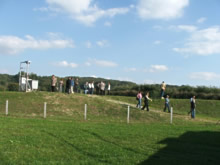 On Tuesday 17.10. Ecological organization EOL has organized entire day excursion in Slovenia, for representatives of local self-government, nongovernmental organizations and institutions from Protected Landscape of the river Mura area, as well as members of PLRM Management Plan Council and members of EOL.
Excursion is part of the project LIFE TCY Mura and is financed from European fund LIFE III. During almost entire day we were participants of expert counseling/ symposium which is the final part of demonstrational project LIFE ENVIRONMENT

After the presentations in the hall, we saw specific example of rehabilitation of landfill site in Municipality Ormož, where performers of project LIMNOTOP presented us with specific phases and organizational characteristics of creating this kind of landfill site. Excursion has ended with presentation of ecological family household in Kog, also in Municipality Ormož, where Mr. Pukšić, the host, presented their household, reasons of choosing ecological production, how the family gained eco certificates, and importance and examples of cooperation with local self-government and tourism sector.

26.09.2006

Lonjsko polje excursion

On 26.09. ecological organization EOL has in cooperation with Nature Park "Lonjsko polje" (that has experience of conduction of the second LIFE project), has organized entire day excursion in Lonjsko polje for representatives of local self-government, nongovernmental organizations and institutions from Protected Landscape of the river Mura area, as well as members of PLRM Management Plan Council and Project Team.

Representatives of Public institution Nature Park Lonjsko polje have introduced us with their activities, projects, and ways of cooperation with local community. All of us present had a chance to see the Info center of Public Institution "Nature park Lonjsko Polje", where we were introduced to functioning of this Public institution as well as main characteristics of the Nature Park.

Afterwards we saw the village Krapje with traditionally built houses, village household and importance of cooperation between public institution and local community in renewal of traditional heritage, then retention and flood areas and their importance in preserving biodiversity, traditional husbandry characteristic for flood areas, ethnographic collection of family Sučić and Čigoč - village of storks. In the late afternoon we have ended our excursion in a conference hall in hotel Kutina with presentation of employees of Public institution "Nature Park Lonjsko polje", who have presented us their experience in conduction of LIFE projects, and a discussion of all participants.


28.04.2006

Mill on Mura opened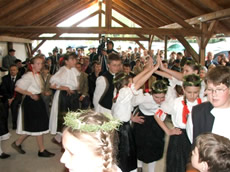 We are pleased to announce that in Žabnik near Sveti Martin na Muri once again floating river mill has started to work. Official opening has been held on Friday 28 April 2006 without a ceremony, for about hundred years ago there were no festive suits, speeches, cutting ribbons.

What was life like then and what people did it was presented in the opening program situated on the river bank beside the mill. The mill was opened by Head of Međimurje County Josip Posavec. Craftsman Ivan Strnad with his team did the construction work.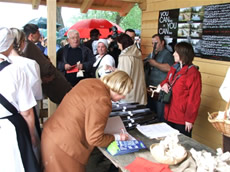 Of course this project could not be realized without understanding and aid of donors. That is why we thank: LIFE TCY, Međimurje County, AED/USAID, Ministry of Sea, Tourism, Transport and Development, Office for Government Associations of Republic of Croatia, Zagreb Bank, INA Oil Industry, Croatian Forests, Croatian Tourist Board, Međimurje County Tourist Board, Municipality Sveti Martin na Muri.

Nevertheless the opening does not conclude this project. Arrangement of educational path in nature, most northern point in Croatia, ethnographic collection dedicated to the milling and traditional life alongside river Mura, traffic signalization, approaching path and environment is still to come. All this will serve people to get to know traditional and cultural heritage of this place 

You are welcome to visit the place where tradition still lives.

16.02.2006

Announcement of 10th International Ecology and Healthy Nutrition Fair

Ecological organization EOL with pleasure announces one of the biggest events in the field of sustainable development, ecology and healthy nutrition in region: jubilary 10th International Ecology and Healthy Nutrition Fair which is going to be held from 17th until 19th November 2006 in Čakovec.

The Fair will be divided into two sections: on Friday, the fist day of the Fair congress with several different lectures, seminars and round tables, eminent experts from country and abroad, and in Saturday and Sunday so called Fair section with exhibitors with rich cultural-artistic program will be held.

The Fair will continue to pay attention to our youngest ones, with numerous workshops and programs for children, and also humanitarian character of the Fair is going to be continued. At the end of this first announcement of the Fair, ecological organization EOL invites all interested NGOs that have activities to share or to introduce themselves in order to present activities, knowledge and ideas, for that is why this Fair exists.